---
AUTO SERVICE SYSTEMS - FRESNO, CA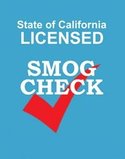 Our Mission:
"We strive to bring you the most relevant and high quality training available for those wanting to obtain or renew their State of California Smog Check Technician licenses."

If you want to obtain your Smog Check Inspector license and/or Smog Check Repair license, give us a call or send us an email and we will explain how you can achieve that goal through our school. Our experience in the Smog Check program is extensive. Check out the "About Us" tab at the top of this page to find out why Jesse Gutierrez and Jerry Esmay make a team that you can count on.

Certified California State Smog Technicians are in great demand. We offer all of the needed California Smog Check classes to take the state exam or renew your existing smog technician license. These include Inspector level 1 and inspector level 2 Training, BAR approved Update training, BAR specified Diagnostic & Repair Training (formerly A6, A8, & L1 alternative courses) and BAR Citation Training for all levels.

---
---
Our classes are primarily held in the evenings, Mon - Thursday with some of the Update Courses held on Saturdays.
Citation classes are by appointment. Check our class calendars for specifics (Tab at top of this page).